Hot Plate Welders
Hot Plate welding is widely used for the most challenging materials and large part assembly with high strength and hermetic requirements. During hot plate welding, both part halves are held rigidly in position against/near a thermally heated platen to melt the joining surfaces. The materials are then quickly separated from the heated source, driven together and allowed to re-solidify under pressure.
Forward has manufactured hot plate welding systems since 1965. Our experience has resulted in the design of equipment based on ultra-rigid construction and detailed melt control to ensure precise repeatability of part quality, year after year of production.

Vertical or horizontal platen hot plate welder configurations are available. From manually loaded and unloaded machines to semi and fully automated in-line systems, Forward offers the widest array of standard products designed to accommodate a most product sizes.
VH-1445 Vertical Hydraulic Hot Plate Welder
About Hot Plate Welding
Hot plate welding offers the highest joint strength of any weld process when welding PP,PE, TPE and EPDM materials.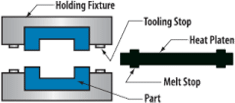 Ability to weld large parts and complex shapes and compound contours with little regard to part and joint geometry and so much more.
Significantly smoother flash with less particulate than other assembly methods.
Compatible with most thermoplastics.
High strength, hermetic welds are typical.
Multiple parts per cycle can be welded.
Designing for Hot Plate Welding
The hot plate welding process produces a welded joint which, in many cases, yields a weld strength that is consistently equal to or stronger than the adjacent areas of the part. Learn more on designing for hot plate welding.

As a result, the weld area can most often be exposed to the same strains and stresses as any other area of the part.
Acrylonitrile Butadiene Styrene (ABS-Cycolac)
Acrylic-Styrene-Acrylonitrile (ASA-Geloy)
PolyOxy-Methylene (POM-Acetal & Delrin)
PolyAmide (PA-Nylon & Zytel)
PolyButylene Terephthalate
Hot Plate Welding Tooling
Get to know the advantages of hot plate welding tooling from our experienced tooling and fabrication department.

Over 95% of all tooling is designed and manufactured for your application by our in-house Tooling Design and Fabrication department.
No charge/obligation complete application review and joint design assistance.
Full prototyping capability.
Tools can be designed for use with Forward Technology or most competitor's welders.